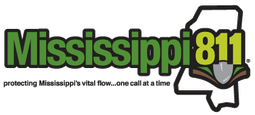 CALL BEFORE YOU DIG! IT'S THE LAW!
This is what is commonly known as the Dig Law. In Mississippi and most other states, anyone doing work on their property that will dig up, overturn, relocate or disturb the ground in a similar manner, must dial "811" at least 2 working days before starting the work so that any utilities which might be affected can be located. This will help keep the utility from being damaged, causing a disruption in service and other customers to be without service. If you do not call and, while doing the work, a utility is damaged, you could be subject to fines/penalties, as well as repair costs from the utility company.
If you would like more details, go to
www.ms811.org
and there you can read the entire law and find out more about what 811 is all about.